Kansai International Airport



Kansai Int'l Airport (KIX) is an offshore airport, approx. 50km south away from the downtown, Osaka. To get to the downtown and other area in Kansai, we have a wide variety of access by road, rail and sea.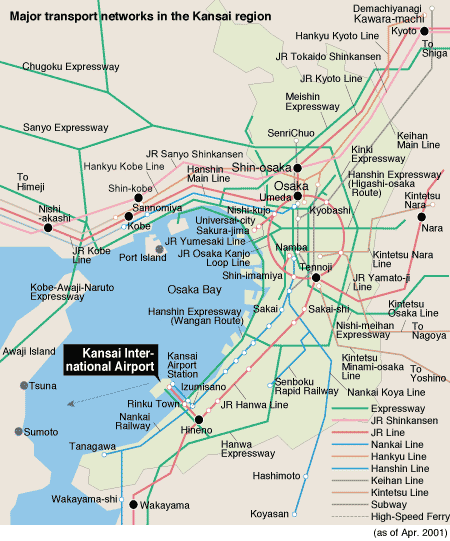 Kansai International Airport is Japan's second most important international airport. Located on a man-made island about 50 km south of Osaka, Kansai International Airport was opened in 1994 as the country's first 24 hour airport. It handles international and domestic flights. Kansai Airport has only one terminal building.
Various train and bus lines connect the airport with the nearby cities of Osaka, Kyoto and Kobe and surroundings. A direct high speed ferry connection to Kobe was discontinued in 2002.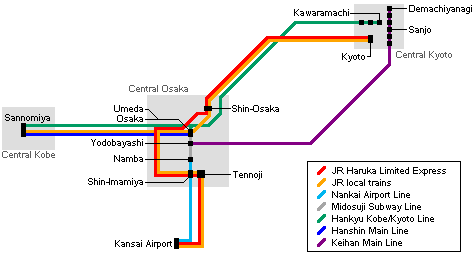 JR Limited Express "Haruka"
about 30 minutes and 2,470 Yen to Tennoji
about 50 minutes and 3,180 Yen to Shin-Osaka
about 70 minutes and 3,690 Yen to Kyoto
The Haruka is a comfortable train for travelers to and from the airport, which connects to Tennoji (a large station in southern Osaka), Shin-Osaka (the shinkansen station of Osaka) and Kyoto. Reserved and non reserved seats are available. The above ticket prices are for reserved seats. You can save a few yen by using a non-reserved seat.
JR Kansai Airport Line
about 50 minutes and 1,030 Yen to Tennoji
about 60 minutes and 1,160 Yen to Osaka
The JR Airport Line is the inexpensive JR alternative to the Haruka limited express between the airport and central Osaka, serving Tennoji, Osaka and other major stations on the Osaka Loop Line. It cuts the ticket price in half, but increases the traveling time by about 20 minutes. Unlike the Haruka, it is a normal commuter train which stops a few times between the airport and Osaka and can become crowded during rush hours.
Nankai "Rap:t"
about 35 minutes and 1,390 Yen to Namba
The Nankai "Rap:t Alpha" and "Rap:t Beta" trains are limited express trains which connect the airport with Namba, the heart of Osaka's southern city center. Beta trains stop at one more station than Alpha trains and are, therefore, just slightly slower than Alpha trains. Both are comfortable trains especially for travelers to and from the airport. All seats are reserved.
Nankai Airport Express
about 45 minutes and 890 Yen to Namba
The Nankai Airport Express, also connecting the airport with Namba, is the cheaper but slower alternative to the "Rap:t" trains. Unlike the "Rap:t" trains, these trains are normal commuter trains which stop more frequently and can become crowded during rush hours.
Bus
about 60 minutes and 1,500 Yen to Central Osaka
about 75 minutes and 1,800 Yen to Kobe
about 100 minutes and 2,500 Yen to Kyoto
Airport limousine buses connect Kansai Airport with various places and hotels in Osaka, Kyoto, Kobe and other destinations in the Kansai Region.
Taxi
about 50 minutes and 17,000 Yen to Central Osaka
Because Kansai Airport is located about 50 km outside of Osaka, a taxi ride into the city center of Osaka is very expensive and not recommended to common travelers.