Hong Kong Int'l Airport
As one of the most important hubs for international passenger and cargo flow, Hong Kong International Airport (HKIA) is a great asset to Hong Kong. The success in keeping the flow fluent and reliable and in providing a high-quality service to airport customers has won the airport many prestigious awards.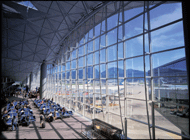 The latest accolades HKIA has received include the Best Airport Worldwide as chosen by both business and leisure travellers, according to the results of the authoritative AETRA survey announced in March 2005. HKIA has received the prestigious 'Airport of the Year 2005' title awarded by SkyTrax for the fifth consecutive year. These and other accolades reinforce Hong Kong's official branding as 'a dynamic physical and cultural hub with world-class infrastructure.
As the world's fifth busiest international passenger airport and most active worldwide air cargo operation, HKIA sees an average of more than 650 aircraft take off and land every day. Near 60 scheduled passenger carriers and 15 all-cargo operators link Hong Kong with more than 140 locations round the world.
An extensive air network and Hong Kong's strategic location positions HKIA as Asia's 'Superhub' and a gateway of China. With regular flights to about 40 destinations in mainland China, HKIA becomes the airport of choice for international travellers to and from the Mainland while meeting the ever-growing travel and cargo needs of the rapidly-expanding Pearl River Delta (PRD) region.

Special facilities and processes make HKIA easily accessible to the PRD's population of 48 million, as well as to the fledgling air travel market offered by the mainland in general. Creating fast, hassle-free surface connectivity between the PRD and HKIA is an ongoing priority for the airport, which has co-operated with transport providers locally and across the border to establish user-friendly land and sea links.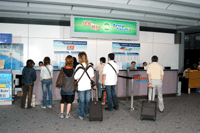 The SkyPier service in particular enables passengers from the PRD to journey to HKIA by high-speed cross-boundary ferries. Travellers arriving SkyPier then proceed to the passenger terminal by bonded buses for their flights without having to go through immigration and customs formalities. This has cut travel times from some PRD ports by half.
In addition to cross-boundary ferry service, some 200 coach trips are made every day by five bus companies to link HKIA with 40 towns and cities in the PRD. Calling at smaller towns to optimise each route, the coaches - which pass through border immigration and customs checks - carried a total of 1.2 million passengers in 2004.
Cargo throughput for 2004 topped 3.1 million tonnes, continuing on the growth curve with a 25.2 per cent increase over 2002, and a 17.4 per cent increase as compared to 2003. Planning is under way to ensure HKIA is well equipped to meet demand into the future.
As a contributor to Hong Kong's prosperity, HKIA is much more than a launch-pad for international travel - a diverse range of enterprises employing 50,000 people has transformed the airport into a 'mini-economy' in its own right. Prime examples of major companies based at the airport include the two Hong Kong home-carriers Cathay Pacific Airways and Dragonair (Hong Kong Dragon Airlines Limited).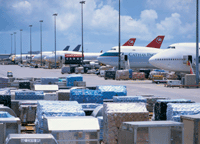 HKIA is also home to a number of aviation logistics companies such as cargo operators Asia Airfreight Terminal (AAT) and Hong Kong Air Cargo Terminals Limited (HACTL) plus express freight carrier DHL - all of which have been expanding their operations at HKIA. Other related industries at HKIA include cleaning contractors, aircraft maintenance companies, catering firms and ramp-handling operators, as well as the huge retail presence in the passenger terminal.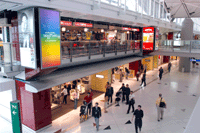 Over 37 million passengers passed through the airport in 2004, helping HKIA's SkyMart to flourish into a shoppers' paradise with 160 outlets and 40 eateries over more than 39,000 square metres. In fact, HKIA was named 'Best Airport - Dining Facilities' by the Skytrax international survey, which awarded the overall 'Airport of the Year 2004' title after polling five-million international air travellers.
A great deal of effort and attention to customer feedback has gone into making sure the 'HKIA experience' is increasingly pleasant, easy, safe and efficient. For example, continuous improvement measures mean 90% of passengers now wait less than 15 minutes at check-in areas, the last bags arrives in the reclaim hall within 40 minutes.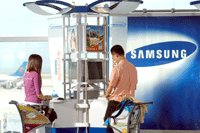 The passenger terminal has been designed to provide calm, clarity and convenience and offers a wide range of useful and relaxing facilities including rest lounges, a proliferation of TV screens carrying news and entertainment, free and pay-Internet lounges and a children's play area. In addition, travellers with Wi-Fi enabled laptops can enjoy high-speed Internet access almost anywhere airside without wires and phone-sockets. The airport terminal is also well designed to accommodate the Airbus 380, the world's largest commercial plane, due to begin test flights in 2005. HKIA also maintains some of the world's highest standards in security and safety, which is quintessential to provide a peace of mind for passengers passing through the airport.

Looking to the future development of the airport, the construction of SkyPlaza next to the present passenger terminal will serve as a focal point for HKIA's air, sea and surface traffic flows. The SkyPlaza is part of the larger development called SkyCity which will also include the AsiaWorld-Expo exhibition centre, the second hotel project, a 9-hole golf course as well as the permanent cross-boundary ferry terminal.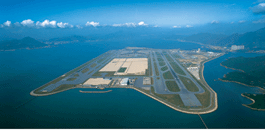 With management focused on the core values of safety, security, operational efficiency and service excellence - and with 10 key expansion projects already planned for implementation - the scene is set for growth and an even greater strategic role in the region's future for HKIA, the pride of Hong Kong.