Location: The airport is located 15km (9 miles) southwest of Amsterdam
Airport code: AMS
COUNTRY CODE
31

DRIVING DIRECTIONS
The airport is situated off the A4 motorway, which links Amsterdam, The Hague and Rotterdam. The exit to the airport is clearly signposted.

CAR PARKING
There are two short-term car parks (P1 and P2), both connected to the terminal and Schiphol Plaza by covered walkways, recommended of stays for up to 48 hours. Long-term parking is available in an open-air car park (P3), situated 4km (2.5 miles) from the terminal. A free 24-hour shuttle bus links P3 with the terminal. There is also a luxury car park (P7). A VIP valet service is also available; reservations are required (tel: (0)900 7244 7465 (Netherlands only) or (0)20 794 0800).

CAR HIRE
Car hire companies are located in Schiphol Plaza and include Avis, Budget, Hertz, National Car Rental and Sixt.

PUBLIC TRANSPORT
Rail: There is a railway station in the terminal's central hall, under Schiphol Plaza; direct trains run to Amsterdam Centraal Station (journey time: 15 minutes). Night trains serve Utrecht, Amsterdam Centraal Station, Leiden, The Hague, Delft and Rotterdam. The reservation-only, high-speed Thalys train serves major European cities. Other international services run to Berlin, Hannover and Leipzig. NS (Dutch Railways) ticket machines and desks are located in the baggage reclaim halls 1, 2 and 3, and Schiphol Plaza. Road: Taxi: Schiphol Travel Taxis are available from outside Schiphol Plaza (journey time into Amsterdam: 15 minutes). Taxis can be booked in advance on the airport's website. Bus: Public buses run regularly to Amsterdam and other cities. Bus nos.197 and 370 (interliner) run to Amsterdam city centre and Amsterdam Zuid. Buses depart from platform A7, in front of the Arrivals hall 2. Shuttles: Many hotels offer a free airport shuttle service to guests. The Connexxion Schiphol Hotel Service (tel: (0)38 339 4771) is a daily hotel shuttle service running from the airport to over 55 hotels in and around Amsterdam; the Connexxion desk is situated in the Arrivals hall 2, for tickets and information.

INFORMATION AND HELP DESKS
Schiphol information desks are located before passport control in Schiphol Plaza, halls 2 and 3 in Arrivals, and behind passport control in Lounges 2 and 3. Eight transfer desks, situated on the piers, offer information on transfers and connecting flights. Multiphone units, with touch-screen technology for information on the airport, are located throughout the terminal. The Customer Contact Centre (tel: +800 7244 7465) can provide further information. The VVV Holland Tourism Information Office is situated in Arrivals hall 2, with tourist information and an accommodation reservation service.

AIRPORT FACILITIES
Money and communications: There are numerous banks, which also offer VAT reclaim facilities, ATMs, currency exchange machines and bureaux de change. There is a post office in Lounge 2, and mobile telephone hire at the Telecom Rentcenter at Schiphol Plaza. Multiphone multimedia telephone units, which can be used for telephoning, Internet access and an SMS service, are situated throughout the airport. Wireless Internet is available in designated 'communication zones' in the terminal building. Eating and drinking: There are numerous restaurants, bars and cafés situated throughout the terminal building. Shopping: There are numerous shops, including duty-free and a 24-hour supermarket, at Schiphol Plaza (before security) and on both sides of immigration. A duty-free pre-order and collection service is available online. Luggage: Seal & Go, at various locations in the Departures check-in area (tel: (0)20 316 4289) seals luggage (irrespective of size) within one minute. Lockers are situated throughout the terminal. Left-luggage is open daily in the basement between Arrivals 1 and 2 (tel: (0)20 601 2443). There are free trolleys and a porter service (tel: (0)20 601 2303) is available on request. There is a lost and found office; information desks can provide more information. Other facilities: The airport has a medical centre, 24-hour emergency medical services (tel: (0)20 649 2566) and a pharmacy. There is a fully equipped baby room and several play areas on Holland Boulevard; baby change facilities are provided in the toilets. Shower facilities can be found at the terminal hotel (see below), available 24 hours a day. Massages, a casino and a prayer room are also available.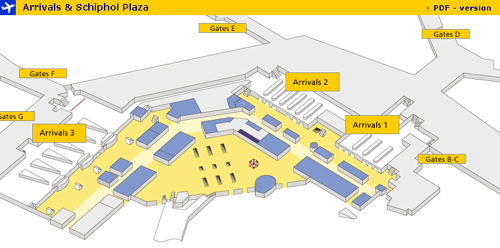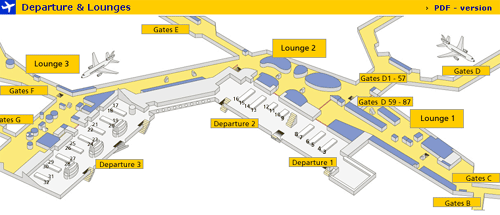 CONFERENCE AND BUSINESS FACILITIES
The Schiphol Business Centre (tel: (0)20 653 2480) hires out offices equipped with fax, PC and telephone facilities, as well as a secretarial service if required. There is also a conference room with telecommunication facilities. The Communications Centre (tel: (0)20 653 1852) provides passengers with Internet facilities, mini-offices, a post office and a telephone centre with full telecommunication facilities; wireless Internet connection is available too. The Skyport Business Centre (tel: (0)20 654 1600) hires out meeting rooms accommodating between two and 22 delegates, which can be reached directly from both Arrivals and Departures. Secretarial services, catering, video and teleconferencing, a hotel reservation service and check-in are also available. Computers, fax machines and mobile telephones can be hired from Telecom Rentcentre (tel: (0)20 653 0999) in Schiphol Plaza. Major airlines have executive lounges, which offer some business facilities.

DISABLED FACILITIES
Facilities include automatic doors, toilets, and a lift between all floors of the airport, including train platforms. Wheelchairs are available for visitors, but passengers requiring wheelchairs and special assistance should inform their airline prior to travel. ACompany (tel: (0)20 601 5018) provides an electrocar service, with shuttles running between piers D, E, F and G and in the Arrivals hall. Disabled parking is available in car parks P1, P2 and P3. A bus is available on request (tel: (0)20 316 1417) from car park P3 to take disabled passengers to the terminal; passengers requiring this service should phone at least 24 hours in advance. Visicom (tel: (0)20 601 2929) supplies text telephones for hearing-impaired passengers; induction loops are fitted at the information desks, transfer desks and in the waiting areas in the central lounge.

AIRPORT HOTELS
Hotel Mercure Schiphol Terminal Hotel (tel: (0)20 604 1339; www.hotelopschiphol.nl) is located within the terminal building, beyond customs. The hotel offers shower facilities 24 hours a day, as well as day room and overnight facilities. There are a number of hotels in the Schiphol area, most of which offer a free shuttle service to the airport. Hotels include the Bastion Hotel Amsterdam Airport Schiphol (tel: (0)23 562 3632), Courtyard Marriott Amsterdam Airport (tel: (0)23 556 9001), Crowne Plaza SPC (tel: (0)23 565 0000), Dorint Airport Hotel (tel: (0)20 658 8111), Golden Tulip Barbizon (tel: (0)20 655 0550), Hilton Amsterdam Airport Schiphol Hotel (tel: (0)20 710 4000), Van de Valk Hotel Schiphol A4 (tel: (0)252 675 335), Ibis Amsterdam Airport Schiphol (tel: (0)20 502 5100), Radisson SAS Hotel Amsterdam Airport Schiphol (tel: (0)20 655 3131) and the Sheraton Hotel (tel: (0)20 316 4300). The Schiphol TravelPort provides e-mail bookings and payment for selected hotels.